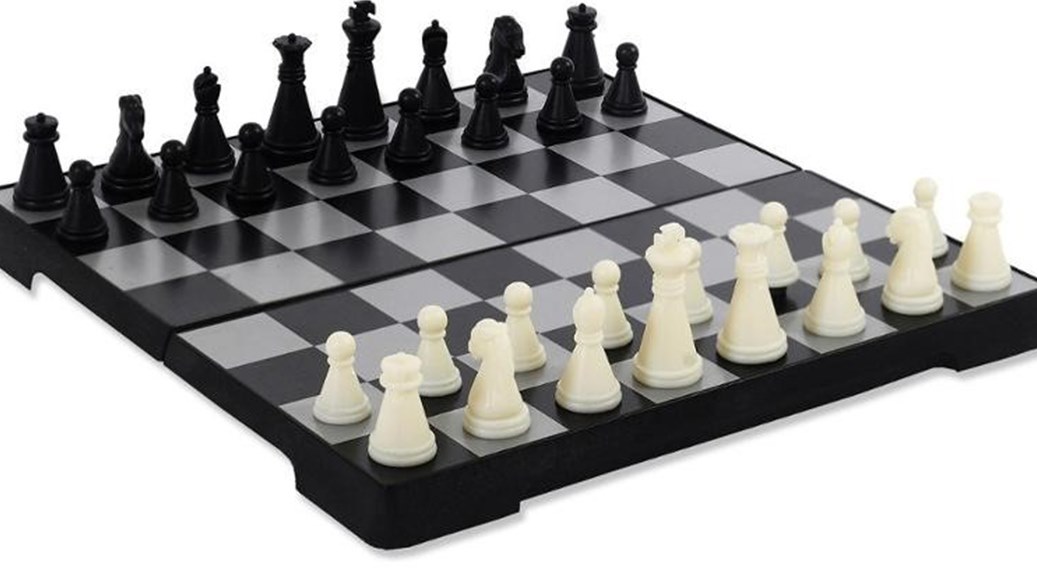 Chess is a two-player strategy board game played on a checkered board with 64 squares arranged in an 8×8 grid.[1] The game is played by millions of people worldwide. Chess is believed to be derived from the Indian game chaturanga sometime before the 7th century. Chaturanga is also the likely ancestor of the Eastern strategy games xiangqi (Chinese chess), janggi (Korean chess), and shogi (Japanese chess). Chess reached Europe by the 9th century, due to the Umayyad conquest of Hispania. The pieces assumed their current powers in Spain in the late 15th century; the modern rules were standardized in the 19th century. Play involves no hidden information. Each player begins with 16 pieces: one king, one queen, two rooks, two knights, two bishops, and eight pawns. Each piece type moves differently, with the most powerful being the queen and the least powerful the pawn. The objective is to checkmate the opponent's king by placing it under an inescapable threat of capture. To this end, a player's pieces are used to attack and capture the opponent's pieces, while supporting each other. During the game, play typically involves exchanging pieces for the opponent's similar pieces, and finding and engineering opportunities to trade advantageously or to get a better position. In addition to checkmate, a player wins the game if the opponent resigns, or (in a timed game) runs out of time. There are also several ways that a game can end in a draw.
How to Play
This is an explanation of the rules of chess. I love the game, and I wanted to do my own illustrated tutorial. I know that there are other Chess Instructables, and I hope that this will add to the growing Instructables chess community. I tried to explain as much as I could using illustrations. If the written directions are confusing, take a look at the pictures. For the more complicated rules, I illustrated them in sequence.

Sports Associations Details
Ø  PRESIDENT
Mr. Lakshman Wijesooriya
No:392/25-1/1,Gangodawila, Nugegoda.
0715397829
Ø  SECRETARY 
Mr. Malith Akalanka
No:392/14, Gangodawila, Nugegoda.
0718740372
Ø  TREASURE
Mr. Erosh Jaysinghe
0703543003
District Association - 07
1.      Kurunagala District Chess Association
2.      Kagalle District Chess Association
3.      Kandy District Chess Association
4.      Jaffne District Chess Association
5.      Nuwaraeliya District Chess Association
6.      Gampaha District Chess Association
7.      Colombo District Chess Association
Associations/ Sports Club -14
1.       Blue And Gold Chess Club
2.       Anatoly Chess Club
3.       Knight Flame Chess Club  Kurunagala
4.       Fiver Chess Club
5.       Golden Queen Chess Club
6.       Hingurakgoda Chess Club
7.       Kolonnawa Chess Club
8.       Kaluthara Chess Club
9.       Paul Morsi Chess Club
10.    NF3 Chess Club
11.    Passed Pawn Chess Club
12.    Sri Lanka Universes Sports Association
13.    Mercantile 
14.    Sri Lanka School Chess Association