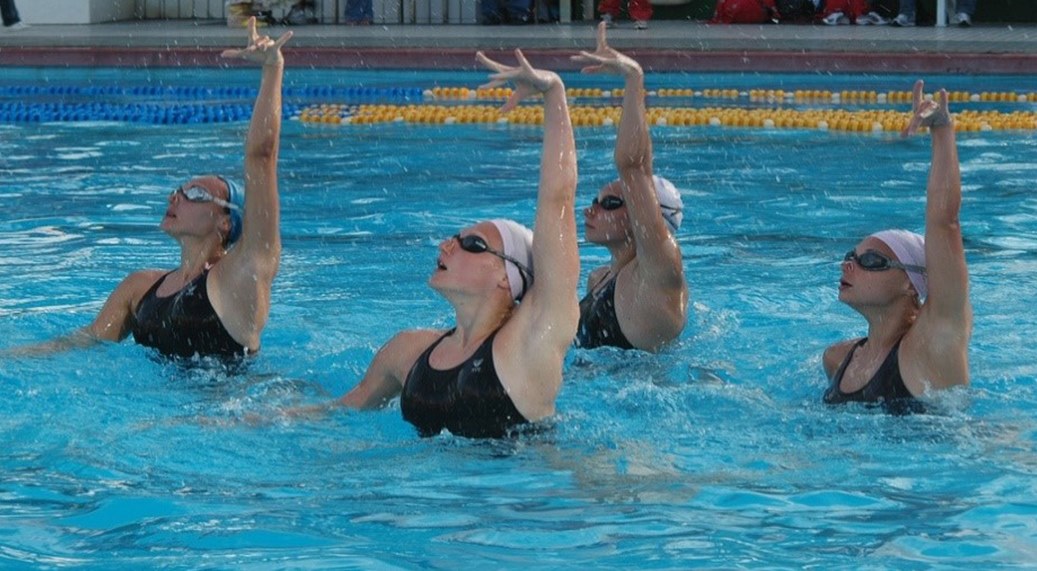 Synchronised swimming, referred to by international governing body FINA as artistic swimming since 2017, is a hybrid form of swimming, dance, and gymnastics, consisting of swimmers performing a synchronised routine (either solo, duet, trio, mixed duet, free team, free combination, and highlight) of elaborate moves in the water, accompanied by music. Artistic swimming is governed internationally by FINA, and has been part of the Summer Olympics programme since 1984. Synchronised swimming demands advanced water skills, requires great strength, endurance, flexibility, grace, artistry and precise timing, as well as exceptional breath control when upside down underwater. Competitors show off their strength, flexibility, and aerobic endurance required to perform difficult routines. Swimmers perform two routines for judges, one technical and one free, as well as age group routines and figures. Synchronized swimming is both an individual and team sport. Swimmers compete individually during figures, and then as a team during the routine. Figures are made up of a combination of skills and positions that often require control, strength, and flexibility. Swimmers are ranked individually for this part of the competition. The routine involves teamwork and synchronisation. It is choreographed to music and often has a theme.
Sports Associations Details
Registration No                           -           02
Registration Year                        -           1975.03.25
Gazette No                                 -           1990/23 - 2016.10.27
Duration of the Position           -           02
Ø  PRESIDENT
Nethru Nanayakkara
No :16/3, Kashyapa Road,
Colombo 05.
077 7740090
nethrunanayakkara@gmail.com
Ø  SECRETARY 
Mr. Darshana Dias
0769185848
Ø  TREASURE
Mr. Sanjeewa Abeysinghe
No: 64/13, Dehiwala Road, Boralasgamuwa.
077 2275474
sanjeewaab@masholding@gmail.com
                                                -
5.      List of Affiliated Associations
·       Provinces Sports Associations  - 00
·       District Sports Associations - 02
1.      Puttalam District Aquatic Sports Associations
2.      Gampaha  District Aquatic Sports Associations
·       Sub Associations / Sports Clubs  - 25
1    Singhalese Sports Club                                              
2    Otter Aquatic Club                                                                                              
3    Air Force Sports Board                                                                                        
4    Kinross Swimming & Life Saving Club                                                             
5    Fishtail Aquatic Club                                                                                           
6    Colombo Swimming Club                                                                                   
7    Sri Lanka Navy                                                                                                    
8    Rainbow Aquatic Club                                              
9    Police Sports Club                                                                                               
10  Peterite Swimming Club                                                 
11  Royal College Union A C                                                                                    
12  Ananda Aquatic Club                                                
13  Galle Swimming & LS Club                                                                               
14  Old Thomian Swimming Club                                                                            
15  Dolphin Aquatic Club                                                                                         
16  Polhena Aquatic Club                                                                                          
17  The Secretary , Sri Lanka School's Aquatic Sports Association                                  
18  Puttalam District Swimming Association                                                           
19  Dambulla Swimming Club                                                                                  
20  Polonnaruwa A.C                                                                                                
21  The President , C/o Mr Kushil Gunasekera , Seenigama Aquatic Club                    
22  Mas Intimates (Pvt) Ltd                                                                                       
23  Army Swimming & Water Polo Committee                                                       
24  Killer whale Aquatic Club                                                                                   
25  Panadura Aquatic Club