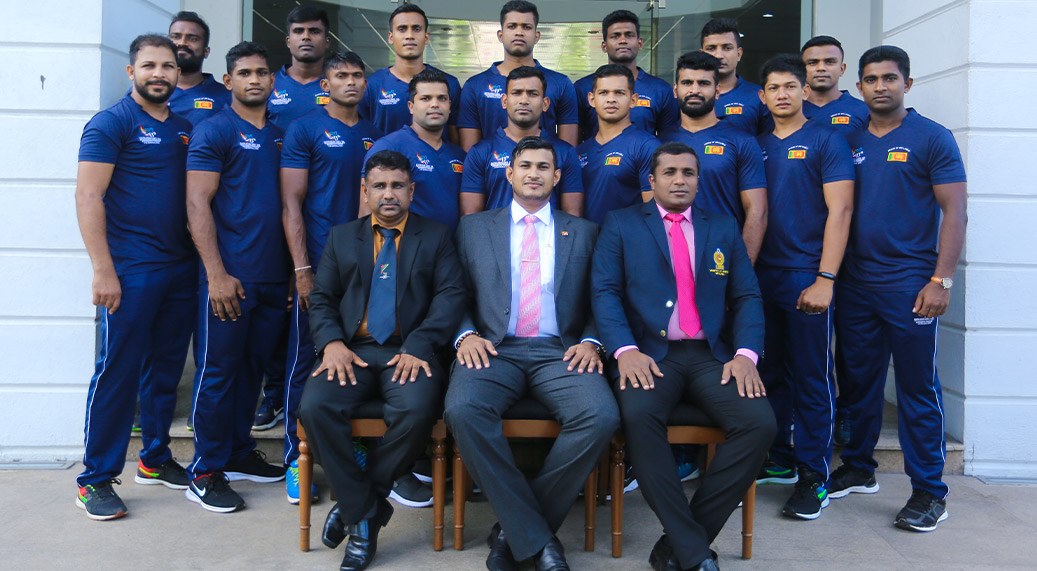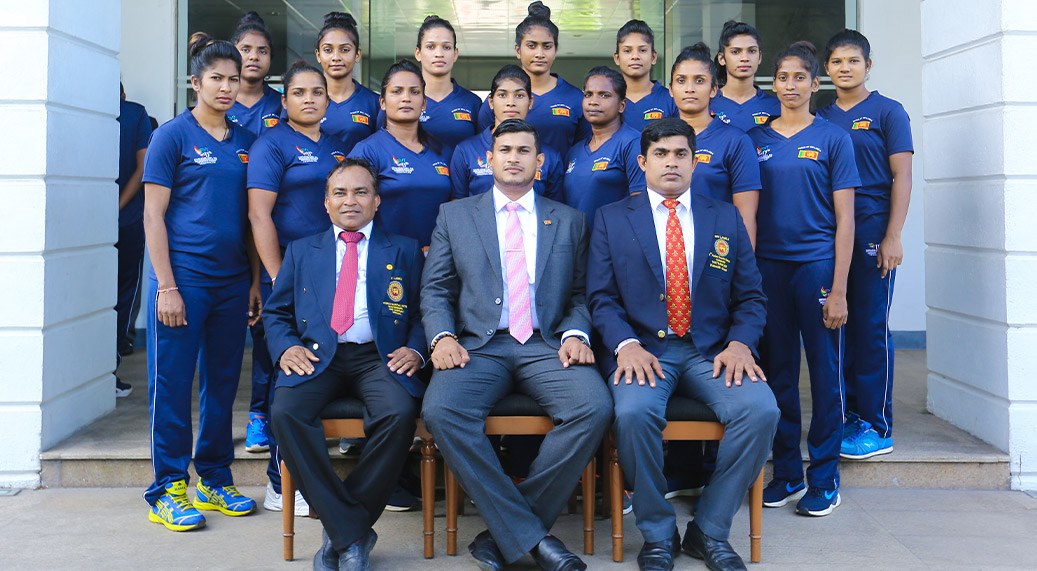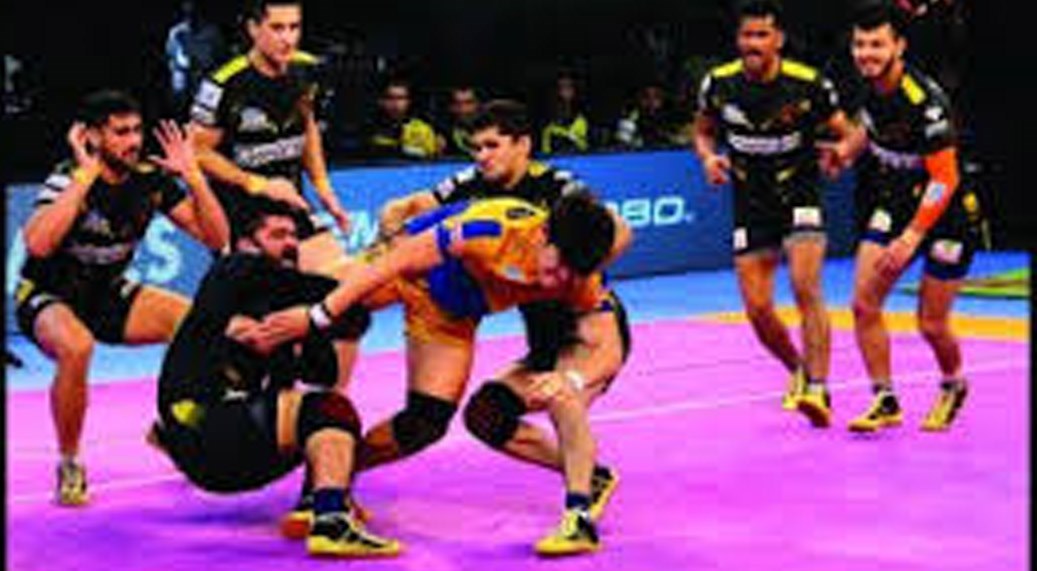 Kabaddi is a contact team sport, It is popular in the South Asia and other surrounding Asian countries. Although accounts of kabaddi appear in the histories of ancient India , the game was popularized as a competitive sport in the 20th century. It is the national sport of Bangladesh. There are two major disciplines of Kabaddi: so-called Punjabi kabaddi, also referred to as "circle style," comprises traditional forms of the sport that are played on a circular field outdoors, while the "standard style," played on a rectangular court indoors, is a discipline played in major professional leagues and international competitions such as the Asian Games.
How to Play
Kabaddi played between two teams of seven players. The objective of the game is for a single player on offence, referred to as a "raider", to run into the opposing team's half of a court, tag out as many of their defenders as possible, and return to their own half of the court, all without being tackled by the defenders, and in a single breath. Points are scored tagged by the raider, while the opposing team earns a point for stopping the raider. Players are taken out of the game if they are tagged or tackled, but are brought back in for each point scored by their team from a tag or tackle.

Sports Associations Details
1. Registration Number – 36
2. Year of Registration - 18.12.1997
3. Gazette Notification - Gazette No. 1990/23 – 27.10.2016
4. Tenure of the Association – 04
Ø  PRESIDENT
Mr. Anura Pathirana
No: 125/2, Barawawila, Divulapitiya.
077 7214655
ranajithaavi@yahoo.com
Ø  SECRETARY 
Mr. R. Sahivan
No: 13/5, Nagodapara, Katukurunda, Kalutara.
0717954729
symon12357@gmail.com
Ø  TREASURE
Mr. Sampath Dissanayake
No: 404/A1/14, Pitipana North, Homagama
071 856 7601
075 056 7601
sampidissa@yahoo.com
5. List of Affiliated Associations –
• District Sports Associations - 22
1. Kegalle District Kabaddi Association
2. Nuwara Eliya District Kabaddi Association
3. Hambantota District Kabaddi Association
4. Jaffna District Kabaddi Association
5. Kalutara District Kabaddi Association
6. Kandy District Kabaddi Association
7. Kilinochchi District Kabaddi Association
8. Kurunegala District Kabaddi Association
9. Ampara District Kabaddi Association
10. Anuradhapura District Kabaddi Association
11. Badulla District Kabaddi Association
12. Batticaloa District Kabaddi Association
13. Galle District Kabaddi Association
14. Gampaha District Kabaddi Association
15. Three Kunamalay District Kabaddi Association
16. Vavnia District Kabaddi Association
17. Mannar District Kabaddi Association
18. Monaragala District Kabaddi Association
19. Mullaitivu District Kabaddi Association
20. Polonnaruwa District Kabaddi Association
21. Puttalam District Kabaddi Association
22. Ratnapura District Kabaddi Association
• Sub Associations / Sports Clubs - 182
 1. Sports club between stones
2. Asiri Sports Club
3. Rajagiriya Sports Club
4. Sweet Sports Club
5. Baminiwatta Sports Club
6. Young Star Sports Club
7. Saradial Sports Club
8. Sumangala Sports Club
9. Marians Sports Club
10. Rainbow Sports Club
11. Baddewela Sports Club
12. Ganethanna Sports Club
13. Nagaragiriya Dileena Star Sports Club
14. Masena Sports Club
15. Hirivadunna Dilenatharu Sports Club
16. Gurubewila Sports Club
17. Rivisada Sports Club
18. Jalatara Shakti Kabaddi Sports Club
19. Ranala Village Friends Sports Club
20. Navagamuwa Golden Lions Sports Club
21. Milagiri Polians Sports Club
22. Central Colombo Stong Sports Club
23. Neth Kabaddi Sports Club
24. Siyambalagoda Kapila Sports Club
25. Lenagala Sports Club
26. Koswatta Sinha Sports Club
27. Kolonnawa Kalena Sports Club
28. Wayalpanawa Sumana Sports Club
29. Annadapura Sarana Phasara Sports Club
30. Pitipana United Sports Club
31. Heinpita Siyashakti Sports Club
32. Dolahamula Sports Club
33. Munahirigama Shakti
34. Hettipola Youth
35. Akarawatta Royal
36. Paduvasnuwara Paduvasdev
37. Vijitha Sports Club
38. Gamunu Sports Club
39. Unity Toad
40. Jayashakti Sports Club
41. Youth League Sports Club
42. Alexander Sports Club
43. Butterfly Sports Club
44. Derani Sports Club
45. Little Lion Sports Club
46. ​​Youth Api Sports Club
47. Samita Sports Club
48. Shakti Sports Club
49. Randunu Sports Club
50. Anamaduwa Sports Club
51. Unicorn Sports Club
52. Dilenatharu Sports Club
53. Eleven Stars Sports Club
54. NCS Sports Club
55. Winners Sports Club
56. Arunali Sports Club
57. Lion Star Sports Club
58. Rantharu Sports Club
59. Sri Vijaya Sports Club
60. Bandarawela Sports Club
61. Lakwiru Sports Club
62. Haputale Sports Club
63. Fantasy Sports Club
64. Madolsima Sports Club
65. Arunalu Sports Club
66. Ridhimaliyadda Sports Club
67. Falls Sports Club
68. Lunugala Sports Club
69. Welimada Sports Club
70. Bibila Kabaddi Sports Club
71. Medagama Kabaddi Sports Club
72. Thanamalvila Kabaddi Sports Club
73. Madulla Kabaddi Sports Club
74. Wellawaya Kabaddi Sports Club
75. Sewanagala Kabaddi Sports Club
76. Chandians S.C
77. Eswaran S.C
78. Minnoly S.C
79. Kalanimagal S.C
80. Vigneshwara
81. Ambalpuram
82. Athavan S.C
83. Theerama Dhammananda School Sports Association
84. Gamunu Maha College Sports Club
85. Parakum Sports Club
86. Abhaya Sports Club
87. Bokkawala Sports Club
88. Kundsala Sports Club
89. Pirimathalawa Sports Club
90. Ganga Upper Sports Club
91. Galagedara Sports Club
92. Doluwa Sports Club
93. Progress
94. Shakti
95. Ranasura
96. Madhu stars
97. Northern Lions
98. Army Sports Club
99. Air Force Military Sports Club
100. Navy Sports Club
101. Police Sports Club
102. DISCO Sport Club
103. Light House Sports Club
104. Batti Sports Club
105. Lucky Sports Club
106. Miller Sports Club
107. Kottamunai Sports Club
108. Harangalapubudu Sports Club
109. Kothmale Lions Sports Club
110. Ginigathena Star Sports Club
111. Nuwara Eliya Dilena Star Sports Club
112. Rikillagaskada Sports Club
113. Hattonleyan Heart Sports Club
114. Kalapitiya Dimuthu Sports Club
115. Pudalooya United Sports Club
116. Maswela Gemunu Sports Club
117. Mawela College Sports Club
118. Nayapana College Sports Club
119. Anuruddha Kumar National School
120. Gangewela College Sports Club
121. Vidyaloka College
122. Patima Sports Club
123. Royal Sports Club
124. Bharati Youth Sports Club
125. Al Burush Sports Club
126. Wells Sports Club
127. Bombers S.C
128. Thickam S.C
129. Imayann C.S.C
130. United S.C
131. Sithi vinayagar S.C
132. Jumping Fish
133. S.T. Thomas
134. Valvai SC
135. Manohara S.C
136. Sondilippai S.C
137. Evergreen Sports Club
138. St. Victory's Sports Club
139. Ocean Sports Club
140. Star Warriors Sports Club
141. Greenfield Sports Club
142. Inthumunnai Sports Club
143. Ashraf Sports Club
144. Millennium Sports Club
145. Matina Youth Club
146. Rmeald Club
147. Matina Sports Club
148. Frakama Club
149. Holy Heroes
150. Gindour Sports Club
151. Olympic Sports Club
152. SDASSO
153. Al-Ashoaq
154. Fleven Star Club
155. Sew Sun Sports Club
156. Dumbbell Sports Club
157. Golden Boys Sports Club
158. United Minimuthu Sports Club
159. Harmony Sports Club
160. Sinha Saviya Sports Club
161. United Sports Club
162. Sports Club of Ahala Hala Udavia
163. Young Valenti Sports Club
164. Jan Shakti Sports Club
165. Gamunu Sports Club
166. Millennium Sports Club
167. Lions Sports Club
168. United Sports Club
169. Ulavar Ontciyam S.C
170. Kirushanabazuthi S.C
171. Young Star S.C
172. Kurinchi S.C
173. Vanathazakai S.C
174. Olinila S.C
175. Pozanthan Youth Cizde
176. Atharan S.C
177. St. Peedzs S.C
178. Kalmadunagal S.C
179. Cendzal Friends S.C
180. Jolly Boys S.C
181. Anna S.C
182. St. Antomys S.C