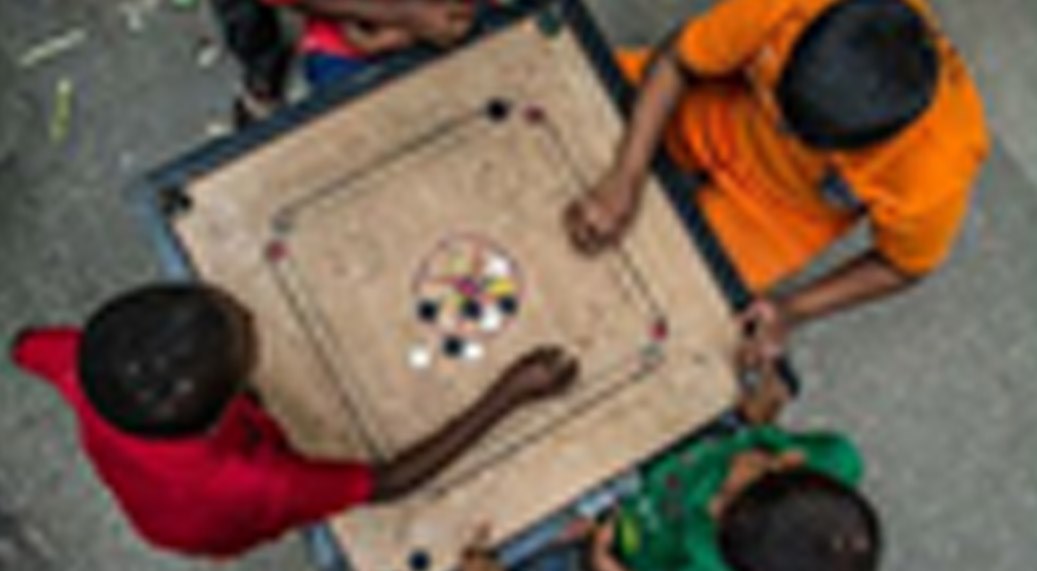 Carrom, also referred to as Karrom, is a popular game in the Middle East and surrounding areas. The game is similar to a combination of billiards and shuffleboard, while being much more portable. It involves a tabletop board, and some small game pieces. As its popularity grows, more people are learning to play and love Carrom.
How to Play
01. Purchase a Carrom board
- The board should be a smooth wooden square of 72-74 centimeters.

02. Collect the pieces needed to play Carrom
- The game involves a Carrom Board nine black or dark playing pieces, nine white or light-colored playing pieces, a red queen and a striker.

03. Place the queen in the center of the Carrom board
- The queen is the red playing piece. Begin by placing the queen in the small circle in the center of the board. The remaining dark and light pieces will be arranged around the queen within the larger circle.

04. Arrange the light and dark playing pieces
- Place the first light piece along the diagonal from the queen, in the direction of the pocket where you would like to strike the piece. Alternate dark, then light pieces in a circle, clockwise, using the queen as the center point.

05. Determine who will strike first
- One player will hold a game piece in one hand. The other player must guess which hand conceals the game piece.

06. Choose your seat at the Carrom board
- The player who strikes first will be seated in the position facing the lighter pieces.

Sports Associations Details
Registration No                         -           21
Registration Year                      -           1975.12.07
Gazette No                                -           1990/23 – 2016.10.27
Duration of the Position           -           01
Ø  PRESIDENT
Mr. R.A.S.H. Ranasinghe
No:205-4C,Ambalahawatta, Jaya mawatha,Wallampitiya.
0711488993
Ø  SECRETARY 
Mr. R.M. Mathayas
No:37/A, Bellanthara Road ‍, Dehiwala.
0774299149
Ø  TREASURE
Mr. Pradeep Premasooriya
No:167/7A, Niilammahara, Boralasgamuwa.
0775223071
List of Affiliated Associations                        -
·       District Sports Association  - 01
1. Kaluthara District Carrom Association
·       Sub Associations / Sports Clubs - 49
1.    Aththidiya Sports Club
2.    Sri Lanka State Servicers  Sports Club                         
3.    Cambridge Sports Club
4.    Electro Sports Club                
5.    Sri Lanka land Development Corporation                 
6.    Premil Sports Club
7.    Ranges Sports Club                
8.    Dematagoda United Sports Club                                 
9.    R & A Sports Club
10. Evergreen Sports Club                       
11. Institute of Industrial Technology
12. Horana Sports Club
13. National Service Carrom Association
14. Government Printing Corporation Sports Club
15. MAhanama Carrom Sports Club
16. Sri Lanka Standards Institute
17. Ganemulla Friends Sports Club
18. Nugegoda Youth Buddhist Association's Sports Club
19. Poruthota Sports Club
20. Sri Lanka Rupavahini Sports Club
21. Suhanda Sports Club
22. State Engineering Corporation of Sri Lanka
23. Sri Lanka Ports Authority
24. Wavala Sports Club
25. Telecommunications Regulatory Commission of Sri Lanka
26. C.E.C.B
27. Habarakada Sports Club
28. Woodland Sports Club
29. Sri Lanka Transport Board
30. Ionians Carrom Sports Club
31. Kalubowila Sports Club
32. Sri Lanka Central Bank Sports Association
33. Caramait Sports Club
34. National Film Corporation of Sri Lanka
35. Ceylon Bank Sports Club
36. People's Bank Pensioners Sports s.
37. Randoli Sports Club
38. National Housing Development Authority (BOI)
39. Selan Bank Sports Club
40. Lake House Institute
41. Sri Lanka Board of Investment
42. Sri Lanka Airforce
43. National Water Supply and Drainage Board
44. Ceylon Petroleum Sports Club
45. Sri Lanka Foreign Employment Bureau
46. ​​R.S. Sports Club
47. Tricomalee Carrom Association
48. Sri Lanka Army Sports Club
49. Colombo Urban Council Sports Club