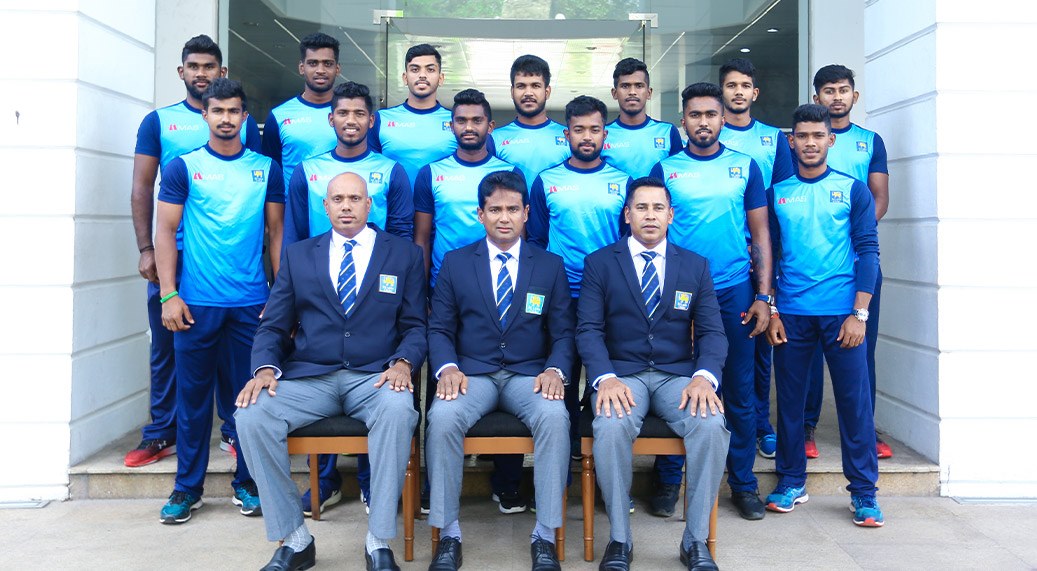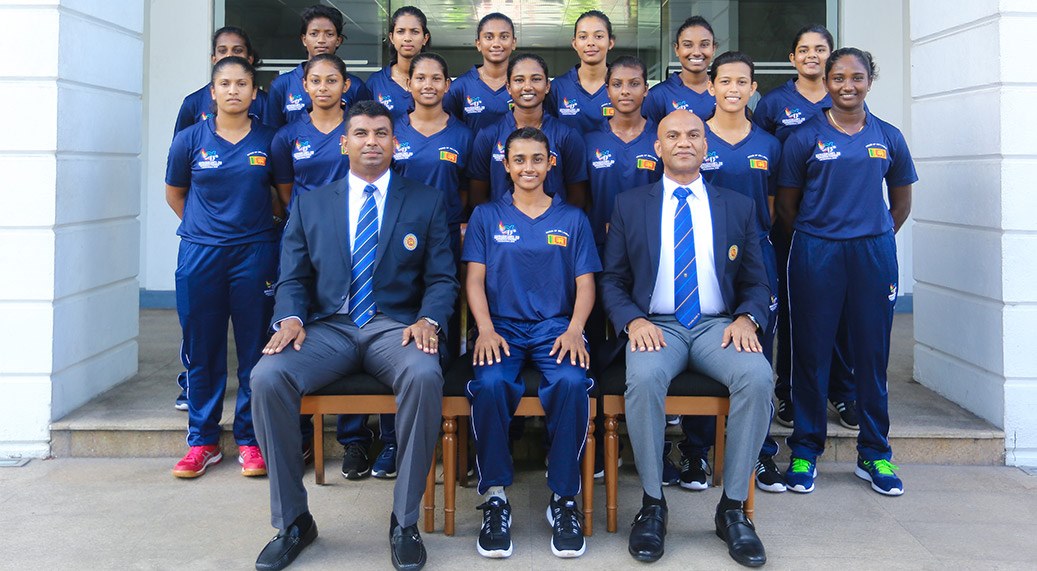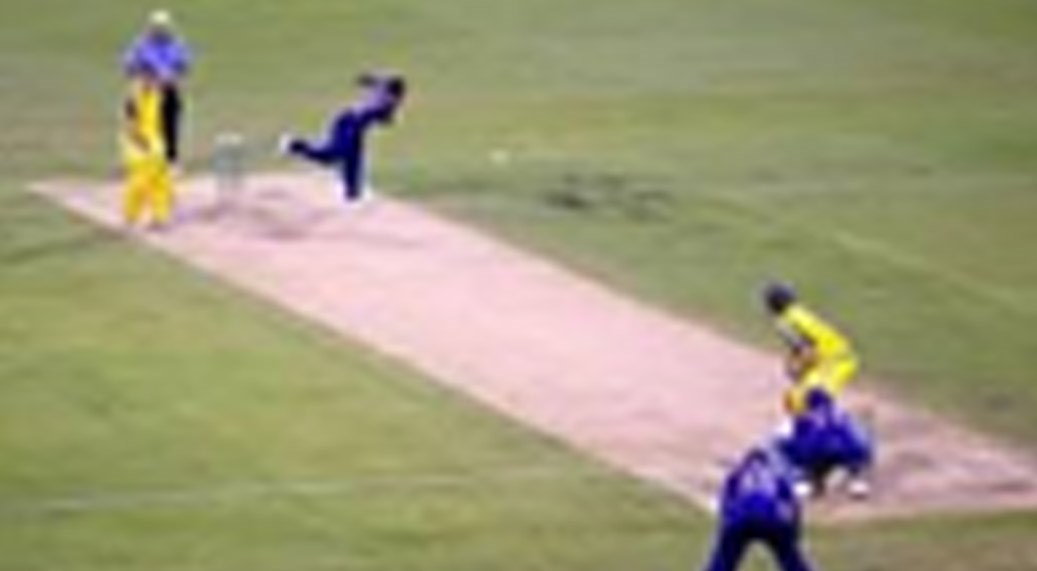 Cricket is a bat-and-ball game played between two teams of eleven players on a field at the centre of which is a 20-metre (22-yard) pitch with a wicket at each end, each comprising two bails balanced on three stumps.
National Player Profiles
How to Play
01. Set up the pitch
- One batsman stands at each end of the pitch, behind the popping crease but ahead of the bowling crease. The bowler also stands at one end of the crease, starting behind the bowling crease, and bowls to the other end. The batsman to whom the bowler bowls is the striker; the batsman at the same end as the bowler is the non-striker.

02. Bowl the ball
- The bowler starts behind the bowling crease, and bowls the ball before reaching the popping crease by moving forward and throwing the ball. A cricket bowl is always performed over-the-shoulder, with a completely straight arm. The ball is allowed to bounce on the pitch once before reaching the striker, though it doesn't have to.

03. Hit the ball and run
- Using the flat side of the cricket bat, the striker can attempt to hit the ball. There are many different types of strike, each with a different advantage over the others. Once the striker has hit the ball, they and the non-striker can choose to run from end to end of the pitch, exchanging places. If both batsmen manage to run safely to the far side of the pitch, 1 run is declared, and 1 point is scored. If either batsman is declared out while trying to reach the far side of the pitch, no point is scored.

04. Finish the game
- Play according to whatever type of game you've chosen until the appropriate number of innings has been reached. The team with the highest number of runs is the winner.

Sports Associations Details
Registration No                         -           17
Registration Year                      -           1975.07.30
Gazette No                               -           1990/23 -
Duration of the Position           -           02
Ø  PRESIDENT
Mr. A. Shammi Silva
No: 143/B, Pagoda Road, Nugegoda.
0777312018
Ø  SECRETARY 
Mr. M. Mohan De Silva
No: 21, Senevirathne Mawatha, Handala, Wattala.
0777328211
Ø  TREASURE
Mr. Lasantha Wickramasinghe
No: 216/1, Honanthara North, Kottawa Road, Piliyandala.
List of Affiliated Associations                        -
Provinces Sports Associations - 05
1.      Central Provinces Cricket Association
2.      North Central Provinces Cricket Association
3.      Southern Provinces Cricket Association
4.      Western Provinces Cricket Association
5.      Uva Provinces Cricket Association
District Sports Associations- 23
1.       District Cricket Association
2.       Ampara District Cricket Association
3.       Anuradhapura District Cricket Association
4.       Badulla District Cricket Association
5.       Madakalapuwa District Cricket Association
6.       Colombo District Cricket Association
7.       Galle District Cricket Association
8.       Gampaha District Cricket Association
9.       Hambanthota District Cricket Association
10.   Jaffna District Cricket Association
11.   Kaluthara District Cricket Association
12.   Kandy District Cricket Association
13.   Kagalle District Cricket Association
14.   Kurunagala District Cricket Associationa
15.   Mathale District Cricket Association
16.   Matara District Cricket Association
17.   Monaragala District Cricket Association
18.   Nuwara Eliya District Cricket Association
19.   Polonnaruwa District Cricket Association
20.   Puththalam District Cricket Association
21.   Rathnapura District Cricket Association
22.   Trincomalee District Cricket Association
23.   Wavniya District Cricket Association
5. List of Affiliated Associations        -  55
Controlling Clubs                                                                                             Affiliated Clubs
1.        Blue Field Cricket and Athletic Sports Club                                      
2.        Antonians Cricket Club
3.        Bohara Cricket Club                                                                       
4.        Badulla Cricket Club
5.        Burger Ricration Club                                                        
6.        Baduraliya Cricket Club
7.        Ketamaran Cricket Club                                                                 
8.        Kaluthara Physical Culture Club
9.        Halawatha Marians Cricket Sports Club                                          
10.      Kagalle Cricket Club
11.      Colombo Colts Cricket Club                                                            
12.      Kurunagala Youth Cricket Club
13.      Colombo Cricket Club  (Gymkana)                                                  
14.      Lankan Cricket Club
15.      Dimbula Cricket and Athletic Sports Club  
16.      Nugegoda Sports and Welfare Club  
17.      Galle Cricket Club                                                              
18.      Old Anandian's Cricket Club
19.      Kaluthara Cricket Club                                                                   
20.      Old Dharmapalian's Cricket Club
21.      Kuliyapitiya Play Ground Cricket Club                                             
22.      Old Tritons Cricket Club
23.      Kurunagala Cricket Club                                                    
24.      Piliyandala Cricket Club
25.      Lean's Cricket Club                                                                        
26.      Ragama Cricket Club
27.      Libbert Cricket Club                                                                       
28.      Rajarata Cricket Club
29.      Matara Cricket Club                                                                      
30.      Rio Cricket Club
31.      Mooras Cricket Club                                                                      
32.      Singhe Cricket Club
33.      Moratuwa Cricket Club                                                                  
34.      United Southern Cricket Club
35.      Mutval Cricket Club                                                                       
36.      Kalaniya University
37.      Negambo Cricket Club                                                                   
38.      Moratuwa University
39.      Normads Cricket Club                                                                    
40.      Wattala Cricket Club
41.      Nondesktops Cricket Club                                               
42.      Wennappuwa Cricket Club
43.      Peterson Learn Play Ground Cricket Club                           
44.      Sivirats Cricket Club
45.      Saracens Sports Club                                                                     
46.      Defense Services Sports Board
47.      Sebastian's Cricket and Athletic Club                                  
48.      Trade Affairs Cricket Association
49.      Sinhalese Cricket Club                                                                   
50.      Sri Lanka School Cricket Association
51.      Tamil League Cricket and Athletic Club                                           
52.      Sri Lanka Public Service Cricket Association
53.      Panadura Sports Club                                                                    
54.      Sri Lanka University Sports Club
55.      Sri Lanka University Sports Club