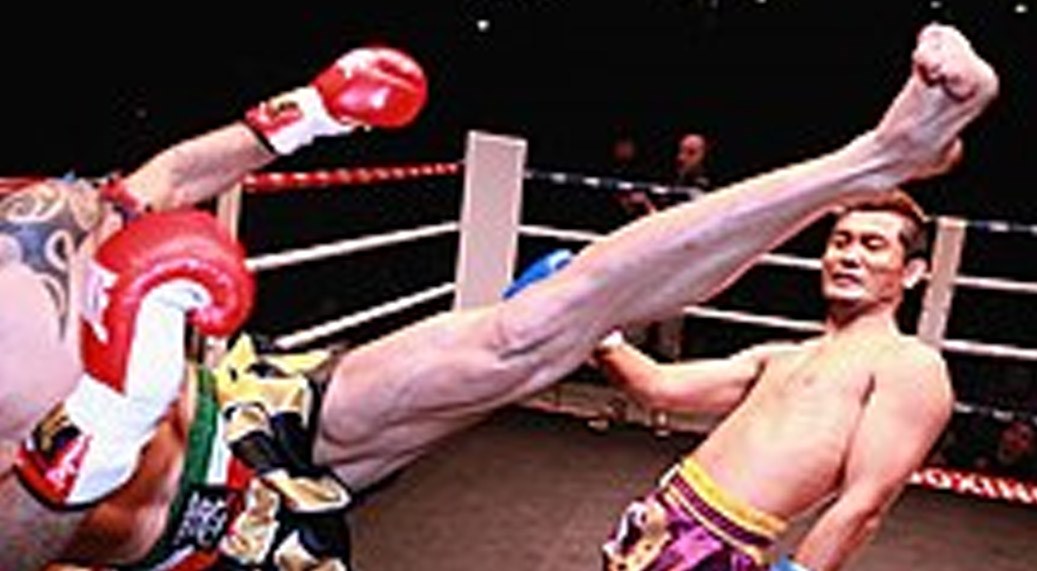 Muay Thai or literally Thai boxing is a combat sport of Thailand that uses stand-up striking along with various clinching techniques. This discipline is known as the "art of eight limbs" as it is characterized by the combined use of fists, elbows, knees, and shins. Muay Thai became widespread internationally in the late 20th to 21st century, when westernized practitioners from Thailand began competing in kickboxing, mixed rules matches, as well as matches under Muay Thai rules around the world.
History
Muaythai has been a part of Thai history and heritage for hundreds of years, as with most traditions from ancient times. Many different versions of the history of Muaythai exist, but all sources agree that Muaythai was the primary and most effective method of self defence used by Thai warriors on the battlefields of conflicts and wars that occurred countless times throughout the history of the nation now known as Thailand. During this time, a warfare manual named "Chupasart" was written. This manual emphasised the martial uses of each body part. The underlying philosophy of this manual implied that fighting was more than the use of weapons, but most importantly, should engage total commitment from mind, body and soul.

The first known practice of Muaythai as a "sport", off and away from the heat and chaos of the battlefield occurred during the reign of King Prachao Sua (1697-1709 A.D.). With a great love of the combat art he often fought incognito in local village contests, often beating the local champions. When the nation was at peace, to keep the army busy he often ordered them to train in Muaythai. It was from this that loosely organised competitions started sprouting up around the country. In 1774, the legendary Nai Khanom Dtom made Muaythai famous for his battle against a group of Burmese while he was a prisoner of war in Burma. He was captured when the Burmese ransacked and burnt Thailand's ancient capital Ayuddhaya. He legendarily defeated ten of Burma's best boxers when, without pause, he took them on one by one through a battering and bruising contest. He illustrated one of the most favourable elements in Muaythai, an indomitable will to win for honour and willingness to face any odds. This can be summarised as: "Nothing can stand against you except yourself".

The army has fostered Muaythai. Soldiers have trained and used Muaythai techniques for as long as there has been an army in Thailand. For the military, it has always had use for the close combat fighting skills, the martial art of the battlefield. When a Thai soldier fights hand to hand he uses Muaythai. But then so does every Thai person, male or female. Watching it, learning it, and copying it is a part of Thai childhood. Muaythai soon became a favourite sporting pastime for people from all walks of life, with training camps being established all over the country. In the early 1930s, Muaythai was officially codified, with rules and regulations being created and introduced into the sporting world, to make Muaythai an international sport of the early 20th century and a safe ring sport. Round contests were introduced along with eight divisions based on international boxing. Queensbury rules boxing gloves replaced the rope bindings on the fighters' hands. With a centuries long history, Muaythai has progressed and is now recognised in many countries worldwide, creating a new era of a proud world history. In recent years Muaythai, both amateur and professional, has swept across the world like wildfire and developed into a premier ring sport – a fighting art with no equal in terms of unarmed combat and spectator appeal, as well as being a form of self defence and a fitness programme

What is IFMA?
The International Federation of Muaythai Amateur (IFMA) began as a small federation with several enthusiastic countries, more than two decades ago. After the passage of the initial stages of its life and at the dawn of an exciting new century, IFMA had grown to 130 member countries worldwide with 5 continental federations, together existing under a single, unified regulatory body. IFMA accepts and recognises the mission and roll of the International Olympic Committee (IOC). IFMA will always conform and respect the Olympic charter, adopt the code of ethics based on the principles of the IOC.

The fundamental principles of Olympism include sustainable development of sport, the education of youth through sport and recognition the practice of sport as a basic human right. To that end, IFMA's mission is that every individual must have the opportunity to practice Muaythai free of discrimination of any kind be it racial, gender, sexual orientation, religious or political and IFMA will continue its work toward this right and freedom for all.

IFMA has established various commissions to oversee and develop on areas of social responsibility, universality, ethics, youth and education, prevention of competition manipulation and activities for all. The commissions liaise with stakeholders of the Olympic movement to ensure the adherence to the Olympic movement, code of ethics and function with transparency and good governance.

Muaythai through IFMA has come a long way since its first World Championships held in 1993 where a mere twenty countries participated. In the most recent World Championships the participation was overwhelming with contestants and dignitaries from 101 countries in attendance. Another significant progression in the globalisation of Muaythai took place at the 1995 South East Asian Games when, for the first time since the inception of IFMA, Muaythai was included as a sport in which both genders could compete while representing their country over various different divisions. Since then muaythai has been included in official sport programme of many other Continental multi-sport Games such as the Asian Beach Games and Indoor Asian Martial Art Games and as a demonstration sport in the Asian Games in 1998.

1999 was a historic year for Asia as IFMA and Muaythai has gained recognition by the Olympic Committee of Asia. After 8 world championships in South East Asian, 2003 saw the IFMA World Championship held in Kazakhstan with 78 countries participating. In 2006 history was made, as Muaythai became a full member of the World Sporting Community with its inclusion in GAISF, today known as SportAccord. Thus, IFMA sits proudly alongside all other world-recognised international sport federations, as a recognised member of the world sporting family with unmatched access to knowledge sharing and resources via SportAccord.

2008 was another exciting year for Muaythai with the IFMA World Championships, which was a part of The Association for International Sport for All's (TAFISA) World Sport for All Games (Busan, Korea) under the patronage of the International Olympic Committee (IOC). This raised the profile of Muaythai as an internationally recognised sport in particular through the activities of IFMA in promoting Muaythai as a medium for cultural exchange and to raise awareness of this aspect of the sport. IFMA values the importance of ensuring that muaythai, as a cultural heritage will be protected and will promote and foster all aspects of Muaythai regardless for health, fitness, self-defence or competition. IFMA's slogan is "Muaythai for Every Body" and to develop Muaythai as a way of life.

Furthermore, IFMA was praised by luminaries such as representatives from the IOC for its work with children from marginalised or disadvantaged backgrounds by promoting Muaythai as a route for development. IFMA signed a Memorandum of Understanding with the Peace and Sport Organisation (L'Organisation pour la Paix par le Sport) in December 2010. This understanding between the two organisations is seen as a great step forward in the quest to continue making a difference in the lives of children through exposure to the sport, its values, culture and the traditions that are the core of Muaythai. IFMA also works in close cooperation with UN Women and signed an MOU to cooperate on the campaign the End Violence against Women (EVAW).

IFMA's members are charged with the task of achieving recognition by their relevant national sport authorities and/or National Olympic Committees. IFMA assists its members toward WADA compliance at all times, and encourages its members to work and develop in areas of integrity and social responsibilities. To that end, IFMA aims at building up cooperation with recognised social institutions.

IFMA's cultural exchange program involving kids from over 60 countries received the highest accolades from private and public sector IOC members. Such exchanges amongst others include Jamaica and Thailand where Thai children selected from theMuaythai Against Drugsprogram provided a demonstration alongside Jamaican children. This integration between the cultural exchange programs and the IFMA's activities combating social ills is an important element in our objectives and will be aided by the future of our partnership with Peace and Sport. April 2012 marked the launch of IFMA's latest social project in cooperation with the Peace & Sport Organisation, entitled "Sport Is Your Gang"; a project utilising Muaythai to improve the lives of disadvantaged and marginalised youths. After only two years since its launching Sport Is Your Gang has been given the highest award for social campaigns in sport – 'Spirit of Sport', the annual award from SportAccord that marks the greatest impact sport makes for the youth.

2010 marked yet another major milestone for Muaythai and IFMA with the SportAccord Combat Games under patronage of the IOC, in Beijing. IFMA's Muaythai event received accolades from SportAccord and the Beijing Organising Committee for having the largest numbers of participants and spectators in attendance.

2011 saw the World Championship in Uzbekistan with 90 countries in attendance, which was praised as a festival of culture, friendship and sport.

In April 2012, IFMA marked the official launch of the 'Muaythai towards IOC' campaign at a special gala event in which IFMA lodged its Letter of Intent to apply for IOC recognition to IOC Member Dr CK Wu in the presence of the President of SportAccord, Mr Hein Verbruggen and World Games Association. At the same time, an application to be included in the International World Games Association was handed to Mr. Ron Froehlich, President of the International World Games Association.

2012 also saw the IFMA World Championship in St Petersburg, Russia with 92 countries participating and IFMA also receiving the honour of being the official test event for the 2013 World Combat Games.

The following year 2013 marked the inclusion of Muaythai and IFMA into the International World Games Association (IWGA) an IOC recognised organisation. The same year saw the 2nd edition of the World Combat games under patronage of the IOC and Muaythai had the highest viewing for any non-Olympic sport. The same year, history was also made when the Muaythai television show 'The Challenger Muaythai' was nominated for an international Emmy with over 400 million viewers around the world.

2014 was a truly successful year for Muaythai, with its inclusion in the official sports program of the World Games only 1 year after being recognised. Muaythai also won the Spirit of Sport Award for their outstanding contribution to society. The World Championship was held in Malaysia and Muaythai broke the 100-country mark with 101 countries participating. Furthermore, Muaythai was officially included in the Asian Beach Games, and after being the demonstration sport in the Asian Games, is now fully included in the Asian Indoor and Martial Art Games and the journey continues. That same year, IFMA signed an MoU with UN Women to collaborate on the UN Secretary General's campaign UNiTE to End Violence Against Women and Girls and to advocate for gender equality.

2015 started immediately with the good news of FISU giving patronage to the first ever IFMA Muaythai University World Cup and history was again made in April 2015 when FISU officially recognized IFMA and included muaythai into the FISU World University Championship programme. 2015 also saw the IFMA Royal World Cup in Bangkok with a new record of 120 participating countries. IFMA, from 2009 – 2016 was also one of the 23 members in the Alliance of Independent Recognised Members of Sport (AIMS), one of the four umbrella groups in SportAccord. Currently, IFMA General Secretary Stephan Fox serves as President of AIMS.

2016 was an eventful year with the IFMA World Championships held in Sweden and World Cup in Russia while the European Championships were held in Croatia, the Asian Beach Games under the Olympic Council of Asia in Vietnam, the Pan American Championships in Peru and the Youth World Championships in Bangkok. An important MoU was also signed with UNESCO towards continued youth development, gender sensitivity, intercultural dialogue and implementation of the Quality Physical Education (QPE) guidelines in the IFMA educational platform. The IGLA Education curriculum was also launched this year, formalising and standardising the grading and teaching of muaythai worldwide. The programme is aimed at protecting the cultural and traditional aspects of the sport. Another achievement in 2016 was IFMA General Secretary Stephan Fox becoming Vice President of SportAccord.

To date, IFMA has organized 20 World Championships. IFMA prides itself on combining sport, education and cultural understanding. To that end, annual Congresses are held in major cities in cooperation with stakeholders from the Olympic Family.

On December 6th 2016, the IOC Executive Board granted provisional recognition to IFMA, which is testament to the work done by IFMA and its member National Federations towards protecting and promoting the Olympic values. This causes IFMA to move on from AIMS to becoming members of the Association of IOC Recognised Sport Federations (ARISF), joining all other IOC recognized sports that are not in the Olympic Programme. IFMA will continue to build on the 5 pillars of Muaythai that are: respect, honour, fair-play, excellence and tradition.

2017 is packed year in the IFMA calendar, with the World Championships in Minsk Belarus, which saw over 80 countries gather to see their athletes rise as champions. Muaythai, under IFMA also joined the world sport stage in the World Games 2017 in Wroclaw Poland, as a full medal sport. IFMA is also proud that Muaythai champion Sofia Olofsson took the prize for IWGA Athlete of the Year. The Youth World Championships in Bangkok broke youth participation records with over 1200 participants this year, from over 79 countries across all continents. The Championships featured an outstanding Youth Conference, and dazzling Awards Gala Night. Now Muaythai is geared up to feature in the upcoming SEA Games in Kuala Lumpur, the AIMAG in Ashgabat, and also the Pan-American Championships in Cancun this year.

Muaythai Disciplines
The foundations of muaythai is built on five important pillars; Tradition, Respect, Honour, Excellence & Fairplay. The different disciplines in muaythai are practiced for various reasons. It can be for fitness, self-defence, competition or as a cultural art form. Muaythai is in essence a way of life.

The disciplines in muaythai include:

- Muay
- Muay Boran
- Krabi Krabong
- Muay Talay
- Muay Aerobic

Muay
Muay, also known as muaythai, Thai Boxing of Thai Kick-Boxing is the competition sport which is either competed at the professional level over 5 rounds of 3 minutes each, or by amateur rules over 3 rounds of 3 minutes each. It is known as the sport of eight limbs where practitioners utilise their fists, elbows, shins and knees. Amateur practitioners wear a head guard, elbow guards, shin guards and gloves whilst the professional use only the gloves. Under IFMA's auspices its professional wing the World Muaythai Council or WMC regulates and governs all professional rules and competitions internationally.

This discipline of muaythai is included into the official programme of many multi-sport games such as the World Games, the FISU World University Championship programme, Asian Beach Games, Asian Indoor & Martial Art Games, World Combat Games, SEA Games, TAFISA Games and many others.

Muay Boran
Muay Boran is the umbrella term for "Hand-to-Hand Combat" or self-defense in muaythai. In Thailand It is composed of five disciplines – Muay Chaiya, Muay Korat, Muay Lopburi, Muay Tahsouh and Muay Pala Sueksa (or Muay Panakorn). They can be identified by their different stances and techniques. Muay boran bouts were traditionally fought with rope bindings on the hands (Kad Chuek). Today, competitions are held as either demonstrations with very little contact or full contact.

Krabi Krabong
Krabi Krabong is the weapon based discipline of muaythai. The system includes the main weapons; the curved sword (Krabi) and staff (Krabong).

Muay Talay
This is a fun take on muaythai and is competed on the beach or over a body of water. Competitors compete whilst sitting on a beam using balance and strength, the victor being the opponent which remains on the pole.

Muay Aerobic
This is a total work out programme which includes muaythai training tools such as pad work, bag work, circuit and body strength training. Fitness centres around the world use this unique high-calorie burning work out programme either in one to one personal training (PT) sessions or group circuit training sessions.
Sri Lanka Muaythai Association
Registration No                           - 63      
Registration Year                      - 2017.01.30
Gazette Notification                 -  Gazette No 2004/20 - 2017.01.30
Duration of the Position           - 04
The registration of the association has been temporarily suspended and the authority has been delegated to the Director General.
List of Affiliated Associations            - Not yet Selected
Sports Associations Details
We have registered our associations officially through the Sri Lankan Sports Ministry since the fall of 2017. However, we have been in operation, doing the ground work, since 2009.
We started our associations with only 8 clubs and we have grown to have accumulated a total of 29 clubs across the island. With a total number of games vet 3000 students and athletes.
During this period we have been able to secure many medals through international competitions.
Gold  4 silver  4 bronze 8
The chairman of the association is Asoka Jayarathna, the general secretary Amila Dissanayake and International Coordinator Miran Nilangana.
Federation/Association Address
Address
No.59/B, Irrigation Quarters, Kandawala Road, Rathmalana
Federation/Association Tel No
Telephone no
077 - 7205513
Email